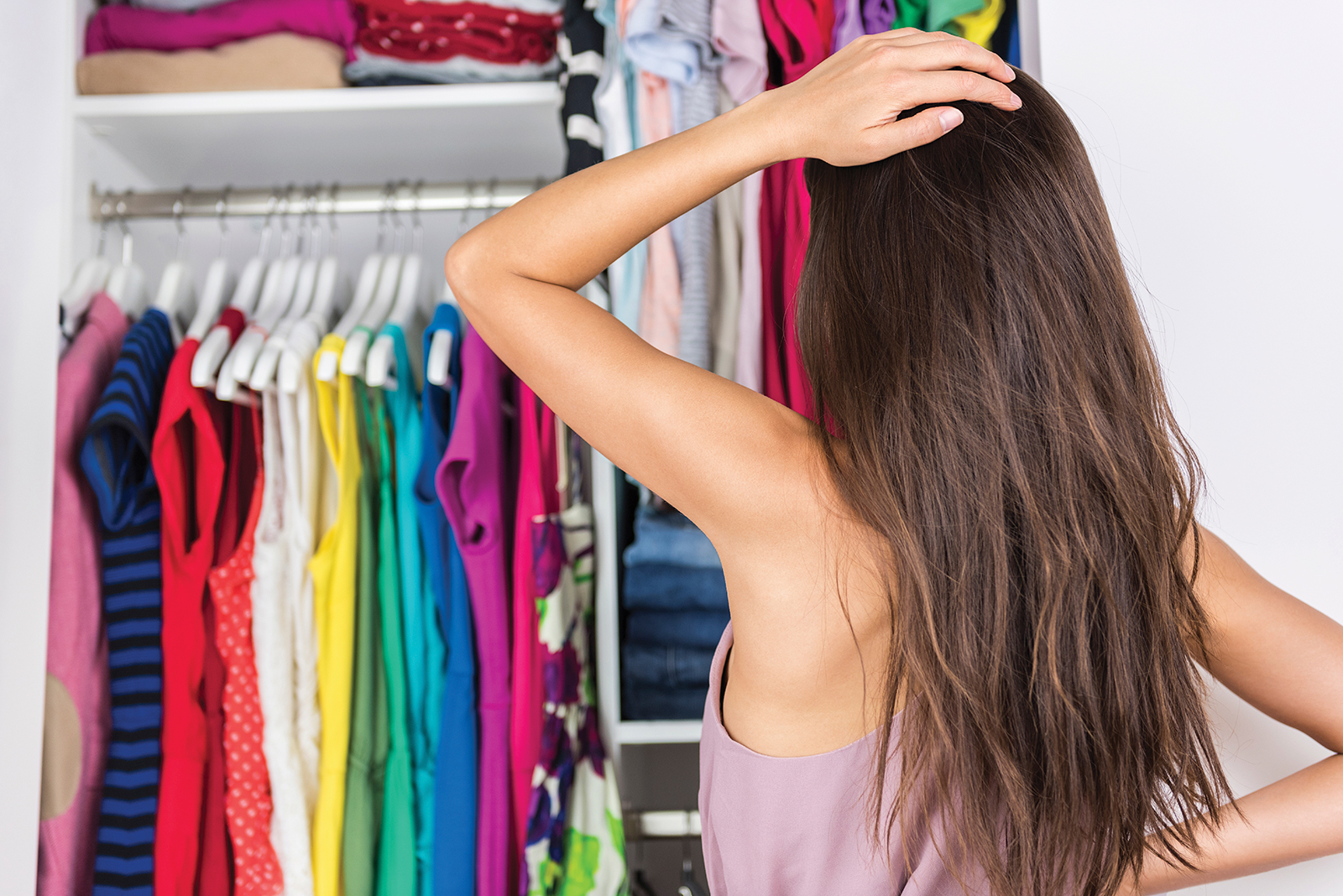 Prepping to organize your linen closet is one of those spring cleaning chores that can be super intimidating and easy to put off. How often do you open the linen or hall closet only to let out a long sigh thinking: "I've got to organize this mess!"
We all have our obstacles preventing us from getting organized and/or reasons why we procrastinate with such a tedious task. So before we walk you through our spring tip tutorial, let's tackle this very important question; why organize your linen closet?
Besides being purely for aesthetic appreciation, here are five health benefits of being organized.
Boost your energy level (according to WebMD).
Better eating habits.
Improve your sleep.
Reduce stress.
Wow, organizing all of that clutter seems a bit more important now, right? I bet you're asking yourself, but where do I begin?
Before we begin with the basics like folding and sorting techniques, let's determine your closet type and space options. Do you have folding doors, sliding doors, or a standard hinged door? And for those of us lucky enough, you may have a walk-in closet! For example, hinged doors are excellent for installing space efficient door hanging organizers on. Pinterest has 1,000+ ideas about closet door storage that are all pretty helpful if you need some visual inspiration. Don't be afraid to get creative with your closet design.
Decluttering the Linen Closet
Next, go through your closet and get rid of unwanted and/or unused items including that fourth sheet set option, or that cluster of tangled hangers that you no longer need, old yellow pillows, and random seasonal clothing items that may have crept in the wrong department. After you accomplish this feat, you will then notice a closet rod and a set number of shelves to work with.
Now you can visually see the space and we can officially move on to our next step of linen closet organization. At this point, you'll have a good idea as to what folding techniques to use and what extra supplies you might need. (e.g. extra closet shelving, closet organizers, closet containers, vacuum storage bags; etc.)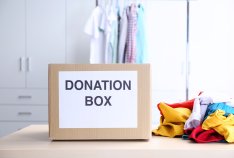 How to Organize Closet Space
We find the best practice is to simply remove all items from your closet. Think of it as a healthy closet cleanse, a blank canvas for you to orchestrate your closet masterpiece in. I guarantee that you'll find some towels or pillow cases that you thought were long gone.
Once everything is out, it's time to sort through it – yes all of it. If you're having a tough time letting go, try sorting into two easy piles like 'keep' and 'donate' first. The 'donate' pile can go to a local shelter or thrift store, just make sure they are still in good enough condition where they can be cleaned and still used. The 'keep' pile should be further sorted into similar categories like sheets, towels, blankets, and whatever else you find and decide to keep.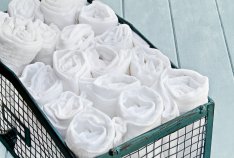 Closet Solutions
Now that your towels and linens are sorted, you can decide if extra baskets, closet organizers, or other materials are needed to make the most of the space you have. We store our luxury linen sheets and extra pillow cases in fancy wicker baskets.
If you're going for baskets or bins, make sure they fit the width of your shelves so the doors close properly. This is especially important when you have a linen closet design with sliding doors. Not everything has to go in baskets, for instance, try putting all of your small towels and washcloths in one basket, while stacking large towels beside it.
Creative Closet Ideas
If you're feeling adventurous, take organizing your closets a step further by labeling the spots you've decided that each item should go. This will not only keep you organized during your redesign, but as a long term solution as well.
By the way, adding a bit of flair or decoration to the inside of a closet is a great idea. Organize your linen closet with these mini chalk board signs from Factory Direct Craft to label baskets, or swipe on a fresh coat of bright/contrasting paint on the shelves. A splash of paint here will only add to your design – here's a few closet paint ideas from Apartment Therapy.
How to Make a Closet Smell Fresh
Let's not forget about the importance of smell and avoiding that musty closet. Get fancy and entice yourself by adding a sachet of lavender or eucalyptus in between stacks of sheets and towels or try our linen spray for an all-natural scent. There are many ways to spice up your closet shelves that will make you want to sigh a little less when you open up the door!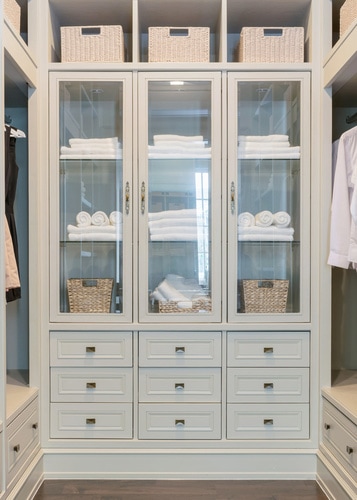 Storage for Blankets and Sheets
Okay, so you are all prepped with sorted piles, baskets, labels and the like on your shelves – so what comes next? You guessed it: folding.
The important thing to remember about folding is making sure each item is folded the same size and shape as the others in the stack for a cohesive and consistent look. Experiment with different folding techniques as well, French folds, hotel folds, or simple roll methods. This will keep the stack from toppling over and creating chaos in your clean closet!
When dealing with linens that are oddly shaped or extra-large, there are tons of creative ways to store them without taking up more room than needed. A good way to store large items that aren't used often, like blankets and extra pillows, is to roll them up or use vacuum bags to decrease the amount of space they take up. Closet containers like bins and baskets make it easy to store everything that won't fold just right.
Time to Close the Closet Door
"For every minute spent organizing, an hour is earned." - Benjamin Franklin
Now that you know the basics on how to organize your linen closet – it's time for you to get busy. In the end, the goal should be to create a closet organization system that works best for you. Don't be afraid to improvise or switch things around if the initial system you created doesn't well, try something else if it doesn't look right, don't settle until you feel settled.
Remember, put your stamp on your environment, lower your stress level, and inspire your daily routine.