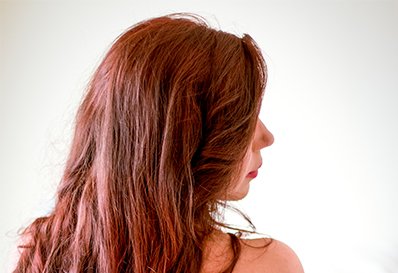 You just woke up from a great nights rest feeling good and ready to start the day. As you make your way to the bathroom, you catch a glimpse of your hair and begin to question why they call it beauty sleep. As much as those strands gone wild make you want to get back into bed and hide under your pillow, we have a few tricks up our sleeve. Sleeping beauty never said it was easy.
1. It Starts Before Bed
Between getting rid of the morning breath and styling your hair, mornings can be a bit hectic. If you shower at night then this can give you more time to catch a few extra Zz's in the morning or pack a lunch! Make sure that your hair is completely dry before going to bed. This can prevent those dreaded morning crazy strands. If you have time to let it air-dry then go for it! Blow drying your hair will work just as well.
2. Buns and Getting Stuff Done
If you have medium or long hair, try pulling your hair back into a bun. Pull your hair straight back on top then secure with bobby pins or hair tie. Then when you wake up in the morning undo the bun to reveal your beautiful hair that just needs the love of a brush!
3. Braids on Braids
If the bun option doesn't work for you then don't worry braids may be your thing. This can work for either wet or damp hair. Simply pull your hair back into a braid and spritz with hairspray or other styling product. In the morning, let the braids out to unveil a fun and flirty hairdo! Just brush through with your fingers and you are good to go! Braids have endless options for how you style them! So don't be afraid to experiment with different braids and parts.
4. This is Great But I have Short Hair
If you hair is too short to pull back into a bun or a braid, grab your bandana! This will keep your hair smooth and in place while you sleep. But if this doesn't work for you either and you don't have time for a shower in the morning, keep a spray bottle of water on hand to rewet your hair in the morning for more manageable hair.
5. Go Natural
Sometimes our hair just doesn't want to cooperate and that's okay. Rock what you have. If styled correctly your morning mess can be turned into a morning dream. Layered hair looks tend to embrace the chaos better. Nothing is wrong with a bun either!