Picking the perfect bedding can be difficult. There are so many different aspects to think about when picking a sheet set. What thread count to choose? Which fabric is the softest? Are they durable? Which company do you trust? Most importantly, are these sheets going to help me sleep better? The answers to all of these questions can often be hard to find but the truth lies in the science.
Up until recent years, there were only a few material choices for bedding. In the mid to late 2000's, companies started joining the going green movement. More innovative and eco-friendly ways were created to make the most comfortable sleep sanctuary. One of the first, and most popular, eco-friendly sheets introduced was made of bamboo. They were flying off the shelves, as they were praised for being silky smooth, cool, and natural but only two out of the three descriptions were true.
When sheets made of bamboo are placed under a microscope, there is no trace of the bamboo plant to be found. The amount and types of chemicals that are used to break down the bamboo are so harsh that it is transformed into something not so natural anymore. The same harsh chemicals cannot be recycled at the end of the process, so they are then dumped into our environment. Once the FTC (Federal Trade Commission) understood the harmful process and false labeling, they required the tag to no longer list the material as bamboo but instead, labeled as rayon.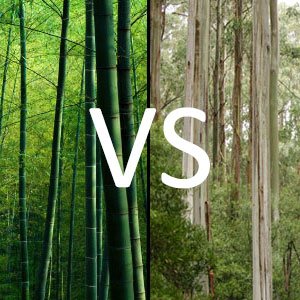 Bamboo textile products also included disclaimers that they cannot withstand rigorous washing or heated drying. If washed with warm water and not on delicate, the fibers will not be preserved and the product will quickly break down and begin to fall apart. The question arose as to whether bamboo products were green products, and if not, why are people still buying them. The customers were bamboozled.
In 2009, Valley Forge partnered with a company in Austria that was producing eucalyptus fibers. These fibers were so soft and strong but did they use the same chemical process as the bamboo fibers? No. Not only were the eucalyptus fibers more eco-friendly to produce, they were significantly healthier during use. The fiber is branded Tencel+Plus™.
The benefits of the Tencel+Plus™ eucalyptus fibers go beyond the physical touch. Since there is only one solvent used in a closed loop production process, the fibers are man-made, natural, and above and beyond organic. The fabrics that we lay our head on and breathe into every night should not contain harmful chemicals but instead, promote a healthy sleep environment. That is exactly what eucalyptus fibers do. The fibers are anti-microbial and anti-bacterial making it impossible for dust mites to live in.
Tencel+Plus™ dries faster than Polyester and Cotton, allowing less opportunity for bacteria to grow. We all exhale warm, wet air when we sleep, and faster drying linens result in a much healthier and clean bed.
The eucalyptus sheets, made from Tencel+Plus™ fiber, wear better and last longer than those made of bamboo and even those made of cotton. Not only do the sheets start off sensually soft, but they get softer with every wash without pilling. The fibers are also less prone to wrinkling, making these sheets look and feel luxurious with less care. The hospitality industry, aware of all the benefits Tencel+Plus™ eucalyptus sheets have to offer, has incorporated them into their bedding programs across the USA.
Eucalyptus sheets are the perfect way of bringing the resort feel home. With such a luscious feel and healthy benefits, these bed sheets are what dreams are made of.